---
68/2012 - Studies of bronze addition effects to partially alloyed iron based powders
by J. Karwan-Baczewska, Z. Brytan, M. Actis Grande, M. Rosso
AGH University of Science and Technology, Krakow, Poland
Department of Applied Science and Technology, Politecnico di Torino, Italy

The influence of bronze addition on the properties and microstructure of partially alloyed iron powders Fe-1.5%Mo and Fe-2%Ni-1.5%Mo were investigated. The partially alloyed iron powders were mixed with B10 bronze powder in amount from 0.5 to 4.0%. Samples then were compacted at 600 MPa and sintered at 1120 and 1150°C for 30 minutes in hydrogen, while a further series of samples, additionally mixed with about 0.6%C, were sintered at 1240°C for 60 minutes, in a vacuum furnace with argon backfilling atmosphere and rapid cooled from sintering temperature with the average cooling rate of 5°C/s. The mechanical properties such as density, hardness and impact resistance as well as microstructure of studied materials were investigated. It has been demonstrated that the increasing of the bronze content in the mixture of partially alloyed powders reduces their density what results from the sintering with excess of liquid phase. The higher bronze content in studied compositions favours swelling on sintering. The mechanical properties such as hardness and impact resistance depend on the content of added CuSn powder. The hardness increase and impact resistance decreases as the content of CuSn bronze powder increases from 0 to 4%.
---
68/2012 - Evaluation of stress and strain fields in the matrix around loaded diamond particle in diamond impregnated tools
Andrzej Romanski, Janusz Konstanty
AGH-University of Science and Technology, Krakow, Poland

In diamond impregnated tools the effective use of diamond grits depends to a large extent on the capability of the matrix to firmly hold the diamond crystals. The strength of bonding results from the crystal shape, matrix properties and diamond-matrix interface conditions. In order to evaluate the effect of the individual parameters on diamond retention of the matrix, the computer modelling technique was applied. The aim of this study was to create a computer 3-D model of a diamond particle partially embedded in a metal matrix and analyse the stress and strain fields which occur in the matrix when external load is applied to the diamond.
By changing the key parameters (mechanical properties of the matrix, friction conditions at the diamond-matrix interface, loading conditions, etc.) different variants of the model were analysed. Calculations were focused on various parameters, which could be associated with the retention properties of the matrix, e.g. energies dissipated by elastic and plastic deformations.
---
68/2012 - Cutting efficiency of circular diamond blade
by G. Gelfusa, S. Turchetta
Department of Mechanics, Structures and Environment, University of Cassino, Italy

Diamond tools used for natural stone machining can be classified in cutting tools, for example: wires, blades, circular blades and drills, and tools for machining the surface, such as grinders and mills of different shapes and profiles. Circular diamond blades are the predominantly used tools in the sawing process of stone. The sawing performance and life of a circular blade is affected by many factors. Some of these major factors are: diamond and matrix properties (diamond type, diamond concentration, grit size, hardness of the metal bond formulation); segment manufacturing method; sawing conditions (cutting speed, feed rate, depth of cut); physico-mechanical and mineralogical properties of the stone to be cut.
This work studies the relationship among the cutting efficiency of circular diamond blades and the speed cutting for different machining conditions. In particular, the machining conditions that are most interesting by an industrial point of view have been investigated. An ornamental stone was machined on a CNC machining centre, retrofitted with a dynamometer and data acquisition systems, to investigate the effects of variations in machining parameters. The sensor data include cutting force measurements further divided into measurable components.
---
68/2012 - Dimension stone cutting by diamond wire saw: evaluation of the system in two marble quarries
by M. Cardu, A. Giraudi, V. Murthy
DITAG - Politecnico di Torino, Italy
CNR - IGAG, Torino, Italy
Department of Mining Engineering - Indian School of Mines, Dhanbad, India

Diamond wire cutting machines have been commonly used in Italy, for dimension stones exploitation (both marble and hard rocks, such as granites and gneiss) since 1970s; their introduction has considerably affected the production rate and the efficiency of the work. Despite the worldwide spreading of this equipment, a lack of investigation to improve the working conditions and the technique efficiency is still present. A joint research between Italy and India was carried out in 2 marble quarries to compare the characteristics of the diamond wires used, through the analysis of their performance. The research had also the aim to exchange the know-how on the quarrying methods and cutting techniques: tests were carried out both on site and in laboratory, and the necessary data were collected. The sites of Carrara (Italy) and Ambaji (India) were investigated. In both quarries the mixed technique "diamond wire saw and cutting chain" is used, but research has focused mainly on the performance of the wire. The paper provides a comparison between the performance of machines and wires used in the two quarries and offers suggestions to increase service life and productivity of the system. Through the correlation of data derived from Indian and Italian samples, it has been determined that the cables used in Carrara perform better than others. This is due not only to the type of material to be cut, but also to the constitution of the wire.
---
68/2012 - High speed grinding wheels, ready to take off
by Franco Tagliabue

In the late 50's the first Italian manufacturers of diamond grinding wheels started an adventure - in their garage or basement - that would have brought the diamond, the fascinating gem full of intrigue, mystery and luxury, to an industrial use making possible the machining of very hard materials. None of them would have thought that these grinding wheels could compete in speed with a Formula 1 car, a high speed train or even an airplane! In the 50's even historical producers of diamond and CBN, like General Electric and De Beers, could imagine that these superabrasive, to take advantage of their features, had to run at speeds above 500 km per hour. In today's market there is a line of machines (very popular in Europe), used in hard metal grinding, that work by means of metal bond diamond wheels at high speed (up to 140 m/s). Camshafts grinding machines used in the automotive industry are able to work up to 140 m/s with vitrified and also galvanic CBN grinding wheels. Quick Point machines are a fixed point, essential in many standard machining operations, when metal and vitrified grinding wheels are used. Also pins grinding, by means of CBN centerless grinding wheel with vitrified bond, takes place at 120 m/s. Today speeds below 50 m/s are selected only in case of machining with sharpening centers and for conventional cylindrical, plane and internal grinding operations. All that is off-center or polygonal grinding is at high speed, as well as all mass-production machining (centerless, shaping with QuickPoint, etc.).
---
Back Issues
Diamante A&T
---
67/2011 - Microstructural characterization of metallic alloy 25.2%Fe - 49.5%Cu - 24.1%Co obtained by the technique of powder metallurgy
by H. Cristine Prata de Oliveira, M. Soares de Freitas, M. Filgueira
Instituto Superior Técnico - IST, Departamento de Materiais, Lisbon, Portugal
Universidade Estadual do Norte Fluminense Darcy Ribeiro (UENF), Rio de Janeiro, Brasil

The present work aims at studying the metallic alloy NEXT 100® (25.2%Fe - 49.5%Cu - 24.1%Co) which is used industrially in the manufacture of diamond cutting tools.
The metallic powders were mixed and hot pressing at 800°C / 35MPa / 3 min.
Were made in the sintered X-ray diffraction, optical microscopy, scanning electron microscopy and EDS analysis to assess the microstructure resulting of the sintering process of metallic matrix, and the effectiveness of sintering between the elements Fe, Cu and Co. The behavior was observed of the crystalline structure and its effects due to interaction between Fe and Co, occurring phase transition, resulting in CoFe solid solution, which improves the properties of the metal matrix to act as a binder in diamond tool.
---
67/2011 - Investigation of thermal, kinetic and hybrid spraying for the manufacturing of metal-bonded diamond abrasive coatings
by W. Tillmann, J. Nebel
TU Dortmund, Institute of Materials Engineering, Dortmund, Germany

Spraying technologies show a high economic potential for the manufacturing of diamond grinding tools. Geometric variability, atmospheric conditions, and only few production steps are some of the spraying advantages compared to complex and restrictive sintering and brazing processes. Revealing the fundamentals, potentials, and limitations of spraying processes, this paper introduces current research developments and future prospects. Investigating different thermal and kinetic spraying approaches, the main focus is based on diamond implantation and the corresponding bonding mechanisms.
Using the example of detonation sprayed diamondbronze coatings, the morphology and grinding abilities are evaluated. In a series of grinding tests the performance and endurance of the sprayed composites are compared to conventionally sintered diamond segments.
---
67/2011 -Characterization of diamond tools fabricated by Spark Plasma Sintering and Spark Plasma Consolidation
by W. Tillmann, M. Ferreira, A. Knote, W. Theisen, P. Schütte, J. Schmidt
Institute of Materials Engineering, TU-Dortmund, Dortmund, Germany
Büdiam Diamantwerkzeuge, R. und N. Büttner GmbH, Eschenburg, Germany
Chair of Materials Engineering, Ruhr-Universität Bochum, Germany
Fraunhofer Institute for Manufacturing and Advanced Materials (IFAM)

The cutting and grinding of natural stone and concrete place high demands on the utilized machining tools. Therefore, high abrasive materials such as diamonds, which are embedded in a metal matrix, are the best choice for this sector. These composite materials are basically fabricated powder metallurgically. The commonly used sintering procedures involve techniques like vacuum sintering and hot pressing.
While these processes are well established and understood, the main disadvantage is the long process time, especially in vacuum sintering, a process which demands previous cold pressing of the diamond metal powders. In order to reduce the sintering time for the diamond tool industry and to enhance the productivity in the fabrication route, new current induced short time sintering procedures are developed.
Spark Plasma Sintering (SPS), a process during which a high-pulsed dc-current is directly sent through the powder, is investigated at the IFAM Dresden and is already a well understood technique. Due to this special engineering system, heating rates up to 100°C/min are possible.
Spark Plasma Consolidation (SPC), which is also called Electro Discharge Sintering (EDS), offers a newer and significantly faster way of sintering. The unique construction of the pressing tools of the SPC-facility, which is operated at the Chair of Materials Engineering, Ruhr-Universität Bochum, provides the means to send a single electrical shockwave of approximately 100 kA/cm² through the diamond-metal powder.
This extremely high current density results in a partial melting of the particle surface and in a sintering time of a few milliseconds.
---
67/2011 - Design of a new cutting configuration to optimize the cutting operations of chain saw machines in quarries
by Dr Ir Fabrice Dagrain, Patrick Marchandise, Sébastian Desmette
University of Mons, Civil Engineering Department, Faculty of Engineering, Mons, Belgium
PMDS sa, Nivelles, Belgium
NETS sa, Mons, Belgium

The design of cutting tools is more and more done by use of numerical methods (finite elements method for example for metal cutting, discrete elements methods in granular materials) which makes it possible to simulate the destruction mechanisms of materials, or by use of design softwares which integrate phenomenological cutting models.
The drilling tools manufacturers for petroleum engineering are doubtless with the point of technology in the design for applications in rock drilling. The major part of them developed their own design software which makes it possible to balance the tools while exploiting the geometrical parameters of all the inserts of a tool, inserts taken independently from each other. The computing power of the current computers makes it possible to refine the design of tools of sometimes complex form. This principle of design was adapted to dimension in an optimal way a new configuration of cutting tools with an aim of optimizing the operation of the chain saw machines in quarries.
---
66/2011 - Novel Rapid Discharge Sintering Technique for Damage Free Diamond MMCs
by Aidan Breen, Greg Byrne, Barry Twomey and Denis Dowling
School of Electrical, Electronic and Mechanical Engineering, University College Dublin, Dublin, Ireland

This study compares the performance of metal matrix composites (MMC) sintered using a novel microwave plasma processing technique called Rapid Discharge Sintering (RDS) and conventional tube furnace sintering. The MMC composites were prepared from nickeldiamond powder mixtures containing 1 µm nickel and 6-12 µm diamond powders. These mixtures were pressed uni-axially at compaction pressures of 300 MPa. The samples were sintered using both the furnace and RDS treatments at temperatures between 850 and 1050°C. The tube furnace sintering study was carried out in argon gas at atmospheric pressure. The RDS treatments were carried out at 20 mbar in plasmas containing hydrogen or hydrogen/nitrogen gases. The addition of nitrogen gas to the hydrogen plasma facilitated a substantial increase in composite firing temperatures. The sintered nickel-diamond composites were characterised based on density measurements, flexural strength, SEM and XRD, analysis. A significantly reduction in sintering times were achieved using the RDS technique for which firing process takes 10 minutes, compared with several hours for the tube furnace treatments. A further advantage of the RDS treatments was the absence of any peaks in the XRD spectrum of the sintered composites associated with diamond graphitization. These peaks were observed for the furnace treated composites indicating some graphitization of the diamond during the sintering process.
---
66/2011 - Understanding stone cutting mechanisms for the design of new cutting tools sequences and the cutting optimization of chain saw machines in Belgian Blue Stone quarries
by Dr Ir Fabrice Dagrain, University of Mons, Civil Engineering Department, Faculty of Engineering, Mons, Belgium

Although the sawing techniques have been particularly improved these 40 last years, there still exist problems to saw hard and/or abrasive stones. The main problems encountered in this type of materials are the low productivity, the high consumption of cutting tools and finally the high production costs. The research undergone at University of Mons in 2008 in collaboration with the company PMDS has been conducted to understand the main problems encountered while sawing hard limestones and to propose technical solutions to increase the competitiveness of the sawing machines in quarries. The main objectives of the research were the following:
1) Increasing the machines performances to reach higher productivity in hard limestones.
2) Increasing the lifespan of the cutting tools to reduce the maintenance costs of the chain saw machines.
This study includes four combined approaches:
1. The study of the cutting mechanisms in the "Petit Granit" from Soignies;
2. The design of a new cutting configuration for the chain;
3. The instrumentation of the machines in quarry to record the cutting performances on site;
4. The comparative study of the production costs of various cutting configurations.
It is important to make known that the suggested study is not current at all in this field, and that no scientific publication forever approached the study of stone cutting in quarry in this manner.
---
66/2011 - The steel mould in the processing cycle of the diamond segments: how to reduce the incidence of cost on the unit manufactured
by Pier Francesco Fiorentini, IMAS Stampi Sas

In this report we will discuss the cold pressing phase, trying above all to describe and analyse the criteria that must be followed for designing and manufacturing a technically sound, operational and cost efficient steel mould, thus omitting for the time being an analyse also of the other three conditions that define a successful outcome of the cold pressing of powders, and that is:
- the position of the segment on the mould with respect to the direction of the pressing;
- the geometric dimensions of the pre-moulded segment;
- the correct distribution of the powder in the mould, which is achieved by making sure of properly positioning the powders loading hoppers on the press.
---
65/2011 - Consolidation of the rapidly solidified high speed steel powders by electric discharge sintering
by E.G. Grigoryev, Moscow Engineering Physics Institute, Moscow, Russia

The consolidation of high density and high strength structure of powder high-speed steel is investigated and optimal operating parameters are defined. The rapidly solidified high-speed steel powder was consolidated by the electric discharge sintering. It was found that the density and strength of powder high-speed steel essentially depends from high voltage electrical discharge parameters and applied mechanical pressure. Powder particles of high-speed steel are redistributed in the compact volume due to magnetic pressure of discharge current pulse and the external mechanical pressure. The distribution of magnetic pressure is defined by the distribution of a current density in the powder compact. The powder densification process has wave nature in the electric discharge sintering. Joint influence of external mechanical and magnetic pressure forms some different zones with cumulative collapse of pores in volume of consolidated material. We determined the dimensionless criteria defining parameters of cumulative collapse of pores during the electric discharge sintering.
---
65/2011 - Effect of the Interfacial Phases on the Mechanical Properties of Al/SiC(Ni)p Composites
by Judit Pázmán, Viktor Madai, József Tóth, Zoltán Gácsi

In the production of powder metallurgical composites two solid phases are pressed by the mechanical stress, then the green is sintered. So the interface developed between the matrix and the reinforcing phase is not good enough. From the aim of its correction the surface of the reinforcing particles must be modified. In that case, if the particles are electroless nickel plated, the matrix will contact with the nickel layer, not the ceramic particles. Consequently the stronger interface develops, but the nickel layer and the matrix react together, so the intermetallic compound forms on the interface. This intermetallic compound has an effect on the mechanical properties of the composite. In our research the effect on the mechanical properties and distribution of the intermetallic compound was investigated. The analysis was carried out by XPS, XRD, SEM, TEM.
---
65/2011 - Integrity and Wear of Diamond Composite Coated Carbide Tools
by JN Boland, X.S. LI, R. Rassool, S. Elbracht, C. MacRae e N. Wilson

The wear performance of thick (~0.5 - 0.8 mm), diamond composite coated carbide tooling is assessed. Using a novel, but innovatively designed wear testing rig, the relative wear resistance of a range of diamond coated carbide tools is measured. The micro- and macrostructures of the coatings and especially the carbide-diamond composite interfacial regions are assessed using x-ray imaging as well as scanning electron microscopy. An assessment of tool performance is made by correlating the results of materials characterisation and wear resistance.
---
65/2011 - Characterization of CVD diamond coatings by nanoindentation tests
by Luca De Fazio, Franco Furgiuele

The microhardness and Young's modulus of a CVD diamond film were determined from load-penetration depth curves obtained by nanoindentation technique. To evaluate the effects of coating thickness and maximum applied load on hardness and elastic modulus, tests were carried out for two different load levels at a constant loading rate. Samples with different thickness were tested. Values of hardness and elastic modulus are comparable to those reported in literature.
---
64/2011 - Spark plasma sintering of diamond impregnated wire saw beads
by J. Schmidt, A. Knote, M. Armbrüster, Th. Weißgärber, B. Kieback

Diamond Metal Matrix Composites (MMCs) are widely used for the cutting of stone and concrete. An effective way of cutting large sized parts is to use wire saws which have hundreds or thousands of small beads on a flexible wire. Typically, these diamond impregnated MMC beads were conventionally sintered by vacuum sintering, pressure sintering or sintering in continuous furnaces. In the present study, the spark plasma sintering of Diamond/MMCs with Co-free Steel/Cu matrix composition was investigated. The results of the physical, chemical and mechanical properties of short time sintered beads are compared with conventional sintering. The focus of the study is on the interaction between matrix metals and diamond, as well as on the design of the multi-part pressing tools for net shape sintering.
---
64/2011 - Technical notes for the use of diamond wire on multi-wire machines
by Osvaldo Cai

Data used for this analysis are referred to the sawing of thirty different granite blocks by means of a multi-wire machine equipped with 32 diamond wires. The types of granite can be divided into three main classes, namely: 45% 1 class; 10% 2 class; 45% 3 class. My personal belief is that the diamond wires should not be classified only according to the material that must be cut but also depending on the machine that will employ them. I know that many do not think like me, but no common snow tires will be used on....a grand prix Ferrari! It would not even let it driven by a bus driver, even if he is clever for driving his bus.
---
64/2011 - Cutting force in stone lapping by sintered diamond wheel
by S. Turchetta

Stone lapping is carried out by means of sintered diamond wheel. The present work shows empirical models to foresee the cutting forces developed during stone lapping. The developed empirical model puts into relationship the cutting force and energy and the relevant cutting parameters, such as the depth of cut and the feed rate, for the stone marble known as Coreno Perlato. The cutting force and energy has been modelled as a function of material removal rate (MRR) by simple and general linear function. The models can be used to guide the selection of cutting conditions. The chip generation and removal process has been quantified with the intention of assisting both the toolmaker and the stonemason in optimizing the tool composition and cutting process parameters, respectively.
---
64/2011 - Mechanical properties of the hot pressed Cu-25%wtFe-25%wtCo alloy
by Hellen Cristine Prata de Oliveira, Stênio Cavalier Cabral, Renan Silva Guimarães, Mariana Soares de Freitas, Marcello Filgueira

Most of the alloys used as bonding matrix in diamond tools show a high content of cobalt - which is undesirable due to a series of reasons. In the last decade, some attempts were made towards the reduction of the Co content in these alloys. NEXT®100 alloy (50wt%Cu-25wt%Fe-25wt%Co) by Eurotungstene is an example of it. This study aims to characterize some mechanical properties of the NEXT 100® - this is a commercial alloy widely used as bonding matrix for diamonds in cutting tools, and the information about its properties are scarce in the literature. The metallic powders were hot pressed in a graphite matrix at 35 MPa/800°C/3 minutes. In these sintered samples, it was made wear resistance and hardness HRB tests. Densification and compression test were performed. It was determined that the NEXT® 100 alloy obtained by hot pressed has good mechanical properties and high densification.
---
64/2011 - Contrast test on several brands of diamonds
by Fang Xiaohu, Liu Yibo, Wen Jianjie

This paper studies the contrast test on several brands of diamonds: GEMS Superabrasives (short as GEMS) as well as Company D and Company E (respectively short as D and E); sizes 30/40 and 40/50. The test is conducted in an all-around way, firstly all the following parameters of diamonds are compared: crystalline shape, transparency, roughness, TI, TTI, SFS and Magnetic susceptibility, and so on. Secondly the test specimens are made into 230 mm diameter saw blades, and used to cut 50 mm thick concrete blocks. The diamonds'performances during and after the cutting, are evaluated. The test results show that the diamonds of GEMS Co. and Co. D and Co. E have the same brilliant performance. GEMS GSD9970 40/50 is even better than the brands D and E.
---
63/2010 - Comparison of different metal matrix systems for diamond tools fabricated by new current induced short-time sintering processes
by W. Tillmann, C. Kronholz, M. Ferreira, A. Knote, W. Theisen, P. Schütte, J. Schmidt

The new current induced sintering techniques like Spark Plasma Sintering (SPS) and Spark Plasma Consolidation (SPC) offer the possibility to fabricate diamond tools for the machining of mineral materials and concrete within a process time of several minutes down to a few milliseconds. First efforts in the fast sintering process of steel-copper diamond composites showed a very good compactibility of the powders. In this paper the sintering behavior (SPS and SPC) of new alternative metal matrix components in combination with coated diamonds shall be analyzed. In this case it is the intention to vary the grain size of the metal powder to increase the sintering activity. To achieve the formation of a chemical bonding between diamond and metal within shorter process times, the usage of a carbide-forming metal coating on the diamonds, especially in combination with a non-reactive metal matrix should be enforced.....
---
63/2010 - Novel iron-base nickel containing PM alloys for the manufacture of diamond-impregnated tools
by Janusz Konstanty, Thomas F. Stephenson

The main objective of the present work was to determine the effect of powder composition on microstructure and properties of iron-base materials used as matrices in diamond impregnated tools. Various mixtures of carbonyl iron, carbonyl nickel and prealloyed bronze powders were consolidated to a virtually pore-free condition by hot pressing at between 850 and 900°C. The specimens were then subjected to density measurements and tested for hardness, bending properties and resistance to abrasive wear. Their structure was examined by light microscopy (LM), scanning electron microscopy (SEM) and X-ray diffraction (XRD). In the as-consolidated condition the investigated materials showed a fine-grained microstructure and contained a high volume fraction of metastable austenite. As a result they exhibited high hardness, yield strength and excellent resistance to abrasion, thus becoming good candidates to substitute cobalt in various diamond tool applications.....
---
63/2010 - A study of the use of encapsulated diamond in saw-blades for the cutting of stone
by David Egan, Cormac Lee, Seamus Melody - Element Six Ltd.

Encapsulation of diamond is a process where all of the metal matrix material used to produce the tool is built up as a layer surrounding individual diamond particles before forming and sintering. Tools manufactured with encapsulated diamond exhibit excellent diamond distribution. This eliminates clustering therefore reducing unnecessary loss of diamond particles. The technology also offers the freedom to precisely control the composition of discrete layers within the encapsulated pellet. This work investigates how novel segment designs, manufactured using encapsulated diamond, influence the performance of the saw-blade. A comparison of standard encapsulated diamond saw-blades to those incorporating an inner zone of higher wear resistance is made. Also, a blade with a novel layered segment structure manufactured using standard encapsulated diamond was tested. While testing, the wear on the blade and the power drawn were monitored. It was shown that the hardzone concept resulted in an increase in blade-life and that using the layered segments produced a much more free-cutting blade.....
---
62/2010 - Fabrication of complex shaped diamond beads for multiwire frames via powder injection moulding
by L. Risso*, B. Vicenzi*, S. Bernieri*
*MIM Italia Srl, ** Diamond Pauber Srl

The paper describes the fabrication and testing of a new bead for multiwire frames, using the powder injection moulding process as a way to innovate traditional shapes in order to reduce fabrication costs and improve performance. This route and the new bead have been developed and patented as the former allows the production of complex shapes at a negligible fraction of the costs necessary to produce the same part with the traditional routes, and the latter can double the duration of a whole set of wires in a multiwire frame.

1. Background
The fabrication of diamond based tools for stone cutting is commonly performed by means of hot pressing, both uniaxially and isostatically, but more and more often by means of the press-and-sinter route. In the former processes the densification of the powders is aided by a pressure applied by a graphite ram or by an inert gas; on the contrary, in the press-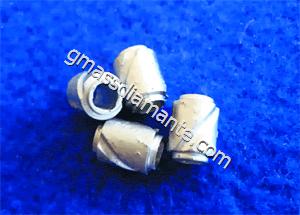 and-sinter process densification occurs at low pressure (or vacuum) only because of the effect of temperature. In all cases a preforming of the green part by means of uniaxial cold pressing is required. In the last years, the pressing of the green parts has very much improved because of the increasing popularity of granulating techniques, that determined a real benefit in the duration of the mould, the productivity, and homogeneity of the metallurgical structure of the tools. The limit of uniaxial pressing lays in the impossibility of moulding more complex shapes. In the present work we describe how it was possible to overtake this limitation and obtain intricate geometries for a diamond tool. A new family of diamond tools, like, for instance, a bead with a double bulge profile or another with a helical groove on the outer surface, has been fabricated and commercialised over the last few years....
---
62/2010 - Technical notes for the production of beads for multiwire sawing machines
by O. Cai

When producing diamond beads with the free-sintering system, especially if the beads are small in size, some factors should be taken into account:
1) If a new binder is used it is essential to know all the chemical and physical characteristics with confidence and perform tests of moulding and sintering to determine the shrinkage factors and then the die size.
2) Always checking the bulk density of the granulate.
3) Make sure that the mixture to be pressed has a particle size composition such that there are not too large granules (which inhibit the mould filling) and the percentage of the "end" does not exceed 25% by weight of the entire mixture.
4) Assume a coefficient of weight reduction (WEIGHT COEFFICIENT) aligned so that, to get the height of the bead at the green, a specific pressure of 3500 kg/cm2 should not be exceeded.
5) Checking that the density at the green of the bead is between 55% and 65% of the final theoretical one.
6) Replace the mould at a cold condition when its dimensions, due to wear, are differentiated 10% from the original ones.....
---
62/2010 - Improving the functional performance of surgical steel scalpels coated with DLC and with WC/C - Part I
by R. Groppetti, F. Spocci
University of Parma, Department of Industrial Engineering

The disposable surgical scalpel made of martensitic stainless steel sharpened after quenching, have a number of advantages so that this product rules the market in years. A disposable scalpel is convenient as it can reduce maintenance costs of a scalpel, avoiding the need for regrinding before any new use, and at the same time avoids sterilization on the spot, because the first and only sterilization is performed at the factory after individually wrapped in sterile package composed of an aluminium laminated foil sealed by welding. Use of disposable scalpel has emerged as technological and economic solution to the technologic and economic problem to avoid sharpening and sterilization of the knife after each use. In particular, the sharpening operation is uneconomical to hospital and was virtually eliminated by using pre-sharpened scalpels. The sterilization operation is currently being implemented in departments of surgery for all surgical tools and equipment for repeated use (pliers, scissors, retractors, etc.). The use of disposable pre-sharpened scalpel is therefore dictated by the need to delete regrinding operations. This prompts the need to achieve an innovative surgical scalpel that could be reused several times without the need for regrinding after each use and can easily be sterilized on the spot whenever necessary without damaging the quality of the sharpening. In fact the one hand this would reduce the amount waste of scalpel in hospital, which fall into the category of special waste and require special procedures for their disposal. Furthermore, any increased cost of the scalpel and the cost of sterilization and its management are compensated by the lower number of knife used....
---
62/2010 - Chemical vapour deposition synthetic diamond: materials, technology and applications - 3rd Part
by Element Six Ltd

While diamond is well known to have many extreme properties, a number of applications have only become practical with the development of CVD diamond. The first two parts of this article have covered the growth of CVD diamond, looking at diamond's mechanical properties and traditional wear applications (Diamante A&T n°60) with the second part (Diamante A&T n°61) discussing some of the newer applications of diamond, including windows and electronic devices. The following, final part reviews two further, constrasting examples of how the properties of CVD diamond can be tailored to the applications of interest, from the high purity requirements of radiation detectors, to the heavy boron doping required for electrochemical uses of chemical sensing and waste water treatment.....
---
61/2010 - pro.ba. srl - Company specialized in construction of industrial furnaces for sintering of metal and ceramic powdres
by Dr Giuseppe Baroncelli

pro.ba. is the acronym of "Progettazioni Baroncelli". The company, which has its headquarters and plant in Cambiano (Turin, Italy) since 1978, is specialized in construction of industrial furnaces (working in inert, hydrogen and vacuum atmosphere) for sintering of metal and ceramic powders. This product range includes the following type of furnaces:
"PRESINT", with the heating chamber in refractory steel, that can reach a working temperature of around 950°C operating in hydrogen and inert atmosphere;
"SINT", with the heating chamber in graphite, that can work up to a temperature of 1300°C, or other type, always in graphite, manufactured with a different technology, that can work up to 2200°C (for silicon carbide sintering) operating in hydrogen, inert (nitrogen or argon) and vacuum atmosphere. Finally, in the range of sintering furnaces, pro.ba. offers "HOT-PRESS" that allow to press the work-pierce during sintering by counterbalanced hydraulic pressure at temperatures around 1000 to 1100°C in vacuum, inert gas or hydrogen. These furnaces are used primarily to fabricate drilling tools.....
---
61/2010 - Fracture toughness testing of diamond impregnated cobalt matrices
by James D. Dwan, Mechanical Engineering Department, ITT Dublin, Ireland

The determination of mechanical properties of diamond impregnated metal matrices (DIMMs) is very important if proper understanding of the relationship between diamond tool and the workpiece is to be achieved. The wear of the workpiece and diamond tool is paramount for proper tool performance. An important mechanical property of a diamond tool is its fracture toughness because it can be used in predicting wear analysis. However, fracture toughness determination of DIMMs is rarely carried out for a number of reasons, e.g. specimen preparation and difficulty of test method. This paper covers two methods, one method adhering to the fracture toughness ASTM standard E399 and the other a simpler variant of the standard. The effects of diamond size and concentration on the plane strain fracture toughness of PM cobalt have been investigated. Both the test methods used and the fracture toughness results are analysed using statistical methods with emphasis on the Weibull weakest link method.....
---
61/2010 - Chemical vapour deposition synthetic diamond: materials, technology and applications - 2nd Part
by Element Six Ltd

The first part of this article (Diamante A&T n°60) covered the growth of CVD diamond and how it can be tailored to the applications of interest. It also reviewed diamond's mechanical properties and their relevance to traditional wear applications. The following parts covers newer applications of diamond, many of which have only become practical with CVD diamond. Here windows and electronic devices are discussed along with its extreme thermal properties, while the final part (Diamante A&T n°62) will cover the contrasting electrochemical uses of radiation detection, through to chemical sensing and waste water treatment.....
---
60/2010 - Chemical vapour deposition synthetic diamond: materials, technology and applications - 1st Part
by Element Six Ltd

Substantial developments have been achieved in the synthesis of chemical vapour deposition (CVD) diamond in recent years, providing engineers and designers with access to a large range of new diamond materials. CVD diamond has a number of outstanding material properties that can enable exceptional performance in different applications...
This paper reviews the material properties and characteristics of single crystal and polycrystalline CVD diamond, and how these can be utilized, focusing particularly on optics, electronics and electrochemistry....
---
60/2010 - Development of environmental management systems for manufacturers of diamond wheels, diamond tools and CBN
by Franco Tagliabue, Research & Development Consultant

The first environmental policies, which continue still to be adopted, were characterized by a system of regulation and control of individual compartments, consisting of environmental legislation and related penalties. This strategy, if on the one hand leads to the adoption of clean-up systems and technologies to lower environmental impact, on the other hand relies on its effectiveness to the efficiency of control by the responsible authorities, which are not always able to cope with regular monitoring of industrial activities and environment. We think to the small number of ARPA officials compared to the thousands of companies to control. In recent years, the approach was different....
---
60/2010 - Free sintering:: how to choose the right furnace?
by O. Cai
In recent times, finally it is claiming (thanks to the diamond beads) the Free Sintering technology. This technology provides, inter alia, the use of metal granulated powders, presses for volumetric dosage and sintering furnaces. On these three important terms (and related equipment) is getting a fair confusion especially among manufacturers of diamond tools not equipped with technology. I hope with this paper, to dissolve the fog a little that fell on the path of those who intend to proceed with the technology of free sintering, which, although not new, is not yet fully known by all manufacturers of diamond tools. The issue of metal granulated powders, as well as the one on volumetric dosage presses presents multifaceted and lends itself to complex discussions that will be discussed next, so I will begin to speak of sintering furnaces where the discourse is concerned only to two options: Continous (or Belt) Furnace, Chamber Furnace....
---
59/2009 - Novel current induced short-time sintering processes for the production of diamond tools
by W. Tillmann, C. Kronholz, M. Ferreira
Institute of Material Engineering, University of Dortmund, Germany

Diamond grinding tools are well established for machining natural stone and concrete.
These diamond tools are manufactured powder-metallurgically. The conventional production route of these metal-matrixcomposites contains a shape forming by pressing (cold or warm) and afterwards a freestanding sintering under vacuum. Disadvantages of this technique are the long process time of several hours and the costs involved. Due to this reasons a consortium consisting of Universities, research centers and companies develop new methods to compact diamond-metal-powders within a few minutes or even a few milliseconds.
One novel approach is a pulsed electrical current of high power.........
---
59/2009 - Diamond FGMs (Functionally Graded Materials) for application in cutting tools
by Marcin Rozmus, Lucyna Jaworska, Andrzej Kalinka
Institute of Advanced Manufacturing Technoligy, Krakow, Poland

The microstructure and mechanical properties of polycrystalline diamond (PCD) synthesized at high pressure and high temperature are strongly influenced by a type of applied bonding phase. The most popular PCDs for application in cutting tools are those with cobalt, due to good wetting of diamond crystallites by this metal. This property allows the production of compacts characterized by a low amount (below 10 wt.%) of bonding phase, resulting in their high hardness. However, the high brittleness of this bonding material results in the poor toughness of such PCDs, undermining their practical pplications. In addition, cobalt containing PCDs are chemically stable only up to 900°C while working temperatures may rise even higher. Therefore, a new material characterized by at least as good wetting of diamond but producing synthesis reaction products both less brittle and chemically stable at even higher temperatures than those containing cobalt would be of interest. Hibbs and Wentorf have developed a method of cobalt.......
---
58/2009 - Predicting the production rate of diamond wire saws in carbonate rock cutting
by R. Mikaeil, M. Ataei, SH Hoseinie
Faculty of Mining, Petroleum & Geophysics, Shahrood University of Technology, Iran
In this paper the prediction of production rate of diamond wire saws was investigated. Performance measurements of diamond wire saws were carried out in 13 different quarries of carbonate rocks in Iran. For laboratory tests, rock samples were collected from these dimensional stone quarries. Then, equivalent quartz content and Uniaxial Compressive Strength (UCS) were determined. Production values were correlated with the corresponding equivalent quartz content and Uniaxial Compressive Strength. The correlation between sawing rate and rock properties were evaluated using multiple and simple regression analyses.
Then, the developed model was validated by statistical tests. It was concluded that the sawing rate of carbonate rocks using diamond wire saws can reliably be predicted using the developed model......
---
58/2009 - Creep feed grinding Inconel 718 with ABN 800 in vitrified bond grinding wheels
by K. Tuffy, S. Nailer, M. O'Sullivan
Market Support Centre, Element Six, Shannon Airport, Shannon, Co. Clare, Ireland
Grinding with cubic boron nitride (cBN) offers many benefits to a wide variety of industry sectors, including the automotive and aerospace groups, such as higher productivities, reduced manufacturing costs and a reduction in the impact of the machining operation to the environment. Research has consistently shown that the unique mechanical and in particular thermal properties of cBN allow superior workpiece surface integrities to be produced in an abrasive machining operation. However, despite these benefits, the usage of cBN has struggled to dominate applications with even the most stringent demands on workpiece surface integrity, with conventional abrasives being widely used......
---
58/2009 - Highly dense Pm components for high performance applications
by M.J. Dougan, K. Lipp, A. Glaser
In order for sintered parts to compete with wrought components for the production of highly stressed gear and powertrain applications, very high densities must be reached in order to achieve the required levels of fatigue strength and wear resistance. Diverse process routes have been employed in the past to obtain these high densities, including high velocity compaction or surface rolling. This paper presents an alternative method for producing highly dense components through the use of a cost-effective tailored master alloy to promote densification during sintering at industrially useful temperatures, and shows how this system has been used to produce a clutch wheel for a high performance handtool.......
---
57/2009 - Elastic and damping properties of binderless WC and WC-Co hardmetals at elevated temperature
by A.K. Swarnakar, S.G. Huang, B. Baufeld, J. Vleugels, O. Van der Biest
Department of Metallurgy and Materials Engineering - Katholieke Universiteit Leuven, Belgium
The performance of WC-based hardmetal cutting tools degrades at elevated temperature due to softening of the metallic binder. With pulsed electric current sintering (PECS) however, the fabrication of binderless carbides is possible. In the present work, the elastic behaviour and the damping of this new material is compared with WC-based hardmetals containing Co as a binder phase and NbC or VC grain growth inhibitors. Binderless WC shows a weak monotonic decrease of the Young's modulus up to 1500°C, whereas hardmetals display a significant decrease already at 1150°C. The damping of binderless WC exhibits an exponential increase, while hardmetals in addition show.......
---
57/2009 - Rock cutting by diamond tools: an experimental research
by M. Cardu, E. Michelotti, E. Lovera
Rock is a random-composite material, and rock cutting diamonds are randomly shaped tools. Based on this, a research program has been planned, starting from single diamond operation on actual rock specimens. Points to be elucidated are the forms of the mathematical linkages between cutting force, normal force, cross section of the kerf produced and rock micro-hardness; the last point, due to obvious scale effects, does not seem to be reasonably predictable from conventional geo-mechanical tests and macroscopic scale cutting tests, nor from conventional rock mechanics theories. Following a synthetic discussion of the problem, the experimental apparatus is described and the results of tests under different conditions are presented.......
---
56/2009 - Organic-bonded powders: a cost effective alternative to diffusion-alloyed powders composites
by Sylvain St-Laurent, Claude Gélinas
A large proportion of high-performance Mo-Ni-Cu steel parts is produced from diffusion-alloyed powders, which offer unique properties and a greater compositional consistency compared to standard mixes. However, the rising price of alloying elements combined with the cost of manufacturing, make these powders less attractive. Only a few standard grades are available and it is almost impossible to make minor compositional adjustments due to the nature of the process. The FLOMET organic-bonding process is a cost effective route that like the diffusion-alloyed process, ensures excellent Ni and Cu bonding. This process offers several advantages: better compressibility, high versatility: it is easy to make chemical compositional adjustments and/or change additive grades to optimize properties and cost, better flow rate and reduced graphite dusting. Organic-bonded powders are seen as a cost effective alternative to diffusion-alloyed powders for producing high-performance parts....
---
56/2009 - Verification of heat development in new designed diamond tools by drilling-tests and FEM-simulation
by W. Tillmann, L. Wojarski, C. Kronholz
Grinding or drilling are typical applications for specific diamond tools. During machining the diamond tools are cooled with water to remove the heat and to prevent thermal deterioration of the diamonds. But for machining in occupied buildings the contamination by concrete/rock-water-mixture is undesirable. Therefore, dry machining is of great interest. To realize dry machining the Institute of Materials Engineering has developed a novel designed powder metallurgically produced diamond composite concept, which includes thermal insulating materials such as alumina or glass serving as a heat shield for the diamonds. The wear behaviour against concrete....
---
54/2008 - Influence of manufacturing parameters on microstructure and residual stresses in diamond-cobalt composites
W. Tillmann, M. Gathen, C. Kronholz, H.-A. Crostack, U. Selvadurai-LaßI, G. Fischer
Due to the extreme hardness of diamond the use of diamond tools has increased in the concrete and stone industries. To reduce the tooling costs operators are very interested in a longer diamond tool life. In addition to the machining parameters e.g. cutting and penetration speed, the properties of diamond composites, which are influenced by the powder metallurgical manufacturing parameters, have a significant effect on the wear behaviour of diamond tools. Detailed knowledge about the correlation between the pressing and sintering conditions and the resulting properties of diamond composites are important for their production and their later use as machining tools. Diamonds (300-500 μm) and pure cobalt (< 40 μm) were used to manufacture diamond-cobalt composites and pure cobalt composites by varying the compaction pressure and the sintering temperature. The microstructure, porosity, residual stress and interactions between diamond and cobalt matrix were investigated to identify the influence of diamond especially on the residual stresses in diamond-composites....
---
54/2008 - Sensors monitoring of a stone cutting process by diamond disc
by S. Turchetta, V. Vellucci
This work aims to investigate the relationship among the cutting force and diamond disk wear and the relevant cutting parameters, such as the depth of cut and the feed rate. An ornamental stone was machined on a NC machining centre, retrofitted with a 3-axes dynamometer and data acquisition systems, to investigate the effects of variations in machining parameters. The sensor data include cutting force measurements, further divided into measurable components, such as x, y and z. Those components were analysed to determine the sensory features that best correlate with diamond disk wear and machining parameters. The cutting force has been modelled as a function of equivalent chip thickness by simple and general power function. The obtained models have been tested for different values of process parameters. Tool wear and machining parameters appeared significantly influence cutting force signals....
---
54/2008 - Non-destructive characterization of stone products: towards PDO like mark
by F. Martoro, S. Bonduà, R. Bruno
The dimension stone qualification through the use of nondestructive tests (NDT) is a relevant research topic for the industrial characterisation of finite products, because the competition of low-costs products can be sustained by an offer of high-qualification and a top-guarantee products. The synthesis of potentialities offered by the NDT is the qualification and guarantee similar to the well known agroindustrial PDO, Protected Denomination of Origin. In fact it is possible to guarantee both, the origin and the quality of each stone product element, even through a Factory Production Control on line. A specific disciplinary is needed. A research developed at DICMA - Univ. Bologna in the frame of the "OSMATER" INTERREG project, allowed identifying good correlations between destructive and nondestructive tests for some types of materials from Verbano- Cusio-Ossola region. For example non conventional ultrasonic tests, image analysis parameters, water absorption and other measurements showed to be well correlated with the bending resistance, by relationships varying for each product. In conclusion it has been demonstrated that a nondestructive approach allows reaching several goals, among the most important: 1) the identification of materials; 2) the selection of products; 3) the substitution of DT by NDT. Now it is necessary to move from a research phase to the industrial implementation, as well as to develop new ND technologies focused on specific aims....
---
54/2008 - Marble in architecture towards its reliable use
by Gianni Royer-Carfagni
Starting from the study of the peculiar warping of the panels forming the façade of Alvar Aalto's Finland Hall in Helsinki, the phenomenon of marble degradation due to granular decohesion of the constituent calcite grains is considered. We show that just a few degrees temperature increase, even when uniformly distributed inside the specimen, can produce, at the microscopic level, the granular decohesion which, at the macroscopic level, is revealed by a decay in the mechanical strength, a permanent dilatation and an increase of the open porosity. The attitude towards degradation of the various qualities of Carrara marbles is correlated with the shape of the calcite granes, whose microstructural arrangement can vary between the two borderline cases of homoblastic and xenoblastic textures. Taking into account geometric parameters commonly used in computer vision, shape coefficients are proposed which allow to pass from a qualitative to a quantitave description of the mosaic texture, and such parameters are shown to be correlated with the attitude towards degradation......
---